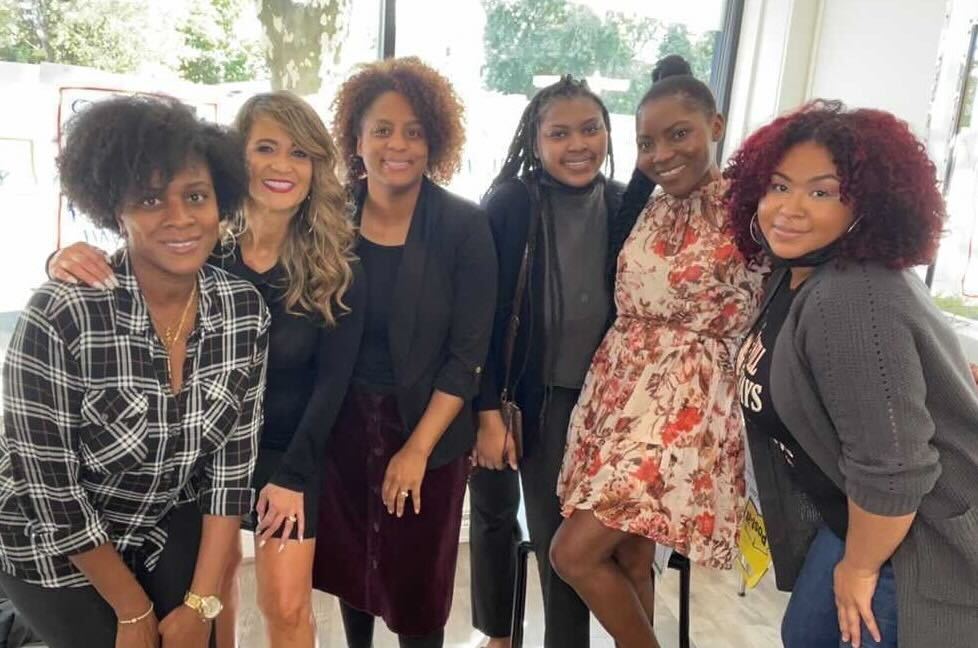 Medford hair studio teaches clients to love their natural hair
The LOFT Hair Studio is the only hair salon in Medford to offer services to clients with curly hair. Founded in 2014, its purpose is "to provide every customer with the best in curly hair services, every time," according to his website.
Owner and curl specialist Sharita Payton has been a cosmetologist for 23 years. She began her personal and professional journey with natural hair when she moved to Massachusetts and gave birth to her oldest daughter.
"I always wanted to look classy, ​​so I wore weaves and extensions because I wasn't comfortable with my own hair," Payton said. "The change happened when I had my daughter because I knew she would grow up and do what mommy did. She would want to do the same things I did.
She decided to take the initiative to learn more about the knowledge and science behind her natural hair. When she gathered her information, Payton decided to share it with other curly-haired people in her community. The knowledge she acquired proved invaluable.
"I started researching for her and, in turn, that helped me love my hair too," Payton said.
She taught her first seminar where about 100 people showed up. Once it was done, she was surrounded by people who wanted her to do her hair. She started working from home, and in 2014 she opened her first salon in Medford.
Since the beginning, Le LOFT has had a constant flow of loyal customers. Attendees of Payton's first seminar became its first customers and spread its reputation by word of mouth. She didn't need to advertise because she already had so many people coming to her to learn how to take care of their hair.
Its team of employees shares the same passion for hair education. Almost every curl specialist at LOFT has reached out to Sharita via social media and expressed interest in learning from her and working for her. As long as their social media accounts show their love for natural hair and they're willing to learn, Payton said she's open to training and hiring cosmetologists who want to work with curly hair.
"I love my team. Being able to watch them grow from when they first walked into the living room to where they are now makes me really happy," she said.
Curl Specialist and Senior Colorist Korlu Bulaya has worked at LOFT since 2018. She credits Payton for mentoring her and the internet for allowing her to research her skills.
"When I made the decision to only work with this hair texture, I was shocked at all that could be done to her. I was amazed at what Sharita could do to hair like I didn't know I could make my curls look a certain way," Bulaya said. "I love my job. Sharita and the other women I work with make this an amazing place."
Bulaya describes herself as always ready to learn more about hair. Accountability and setting goals for herself helps ensure that she is always improving her art. A big part of her journey has been learning how to color textured hair, she said.
"Curly hair is very unique. I want women to believe they can be curly and still have fun with color," Bulaya said. "Back then, people who had color only had straight hair. People with curly hair have never had this. I want my clients to know that you can still have healthy and safe hair just by coloring it bright colors.
Twist-outs, coloring, and rod sets are just a few of the treatments offered at the salon, but the most popular service is their curly haircuts. After washing, conditioning and applying the products to the hair, the client will have each curl carefully clipped until the desired shape is achieved.
The LOFT team creates a personalized hair regimen for every client they meet. They provide thorough consultations and carefully explain everything they will do for their client's hair.
Mekea Harvey has been a customer of LOFT since 2018. She had previously tried to learn more about curly hair from information posted online, but was frustrated by the excessive amount of content available. She didn't know where to start or how to specifically apply these techniques to her hair, so she made the decision to visit Payton's salon.
"Before going to a natural hair salon, I was upset that my hair didn't look like what I saw online. I didn't know how to deal with it, especially since the norm when I was growing up was to get relaxants," Harvey said.
She had grown up with other black women who never wore their natural hair texture and instead decided to have it chemically straightened regularly. When she switched from relaxers to curls, she was met with comments from other women who said they would never wear their natural hair.
"A lot of times as black women, we have a lot of anxiety related to our hair," Harvey said. "Sharita provides a space where we can release all of that. Going there honestly feels like a safe space. It's such a warm and comforting place and she's very sweet. I have retained so much knowledge from my time as a client.
Payton has taught numerous hair courses in the Boston community. She has been invited to the Boys & Girls Club and the YMCA as a speaker at events dedicated to natural hair education.
"The best part of my job is helping our clients when they've been struggling for so long or when they've never seen their hair the way they see it when they're in our chair," Payton said. "Sometimes they cry or they ask to hug me. It really means a lot to me.
Payton taught not only herself, but countless people how to take care of their hair. Her salon has been a place of learning and growth for people of all hair textures. But even if a client isn't sitting in her chair, she still has advice for those looking to start their natural hair journey.
"Consistency is key. Like exercise, day one is day one," Payton said. "You won't get the desired results right away, because it takes time. You need to be willing to learn, grow, and put in the effort, which isn't for everyone, and that's okay. People will say it's just hair, but it's so much more than that.