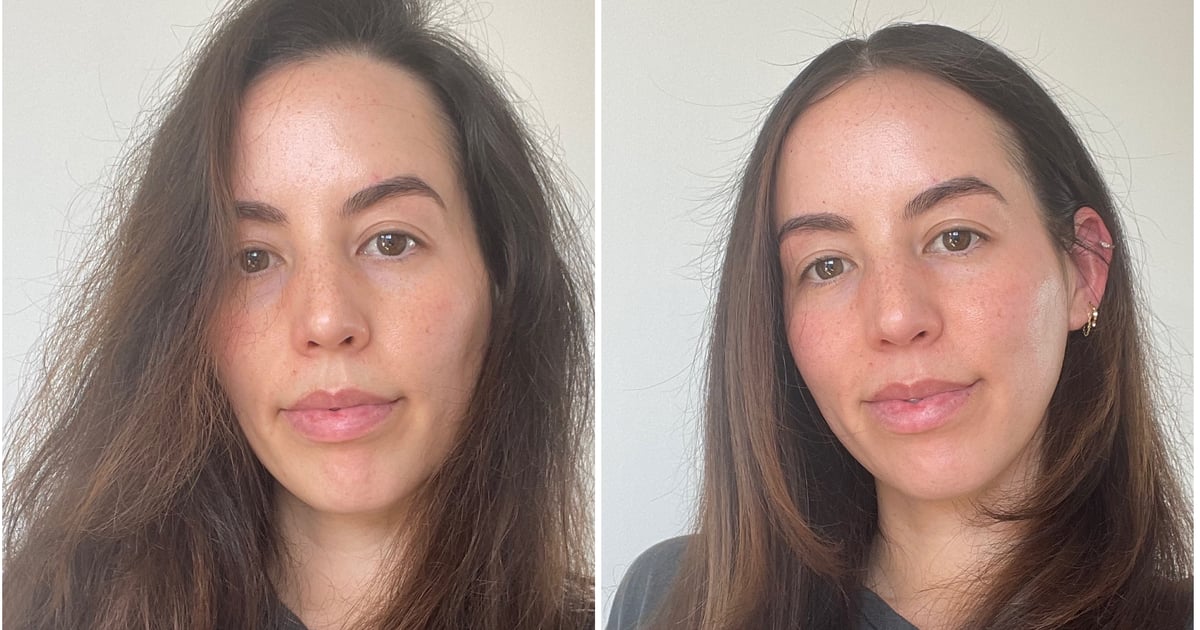 I tried cryotherapy for my hair: see the photos
Babyliss launched the CyroCare Cold Brush last September.
The hair tool promises to hydrate and smooth the hair through cold therapy.
An editor tested the cold brush; see below for its results.
You've probably heard of cryotherapy, but have you ever heard of cryotherapy for your hair? If your answer was no, you are in the same boat as I was a few months ago. While scrolling through TikTok late at night, I came across a video of a girl brushing her hair with a "cold brush" which she says helps repair damaged hair from hot styling and gives her tons of shine. shine. Curious to know more, I fell down a rabbit hole on TikTok and discovered that the product she was using had recently gone viral.
The BabylissPro CyroCare ColdBrush ($150) is a hair conditioning tool that uses freezing temperatures to improve the look and feel of hair through active hydration. It works by reaching sub-freezing temperatures and transferring moisture from the air into the hair shaft. The product can be used on wet or dry hair, and is suitable for all hair types, including extensions.
On wet hair, the product can be used to moisturize the hair before applying heat, which Babyliss says will lead to less breakage. It can also be used on damp hair before air-drying for a frizz-free finish. As for dry hair, it can be used on dirty hair to break up product buildup, or it can be used after hot styling tools to replenish moisture and give hair a smooth, shiny finish.
I have extremely frizzy hair and I constantly face issues related to breakage. I recently had my hair colored, and the process definitely left me with some damage. I have noticed that I have a lot of shorter locks and gray hair towards the top of my head that sticks out straight and is impossible to hold back. This product immediately piqued my interest because I was curious if it would help not only my frizz but also my damaged hair.
The first time I tested this tool, I opted to use it on dry hair directly after using heat. I usually style my hair with my Dyson Airwrap, and to finish it off, I always run my hair on the cool setting on a hairdryer. To test out my new hair tool, I skipped the last step of my blow-dry routine and went straight to the cool brush.
After plugging it in and turning it on, the first thing I noticed while testing this cool brush was that it was, well, really, really cold. Although I usually blow dry my hair after styling, it was easily 10 times cooler. The brush only has one setting, so once I pressed the power button I only had to wait a few seconds until it was cool and ready to use. 'job. I also noticed that within a few passes, my hair really took on a much shinier tone and the frizz at the top of my head was reduced significantly. After I finished using the brush all over my head, the biggest thing I noticed was how incredibly soft my hair felt. Since coloring my hair, my hair is drier and looks a bit like straw, but this tool has given new life to my hair.
Since the first time I tried it, I have also used this product when my hair was wet, and it absolutely helped with the frizz when air-drying my hair. However, I will say that the experience practically made my teeth chatter. I haven't used the product long enough to see any changes on my damaged hair, but I see an immediate difference every time I use it before air-drying my hair or after using hot tools. I did however test it twice on oily hair to break up the product and make my hair less oily, but I can't say I noticed a big difference. For now, I will definitely stick to using it on wet hair and after heat styling.
At $150, this tool is definitely expensive. However, for someone like me, who constantly struggles with frizz, it makes all the difference. It's unlike any other hair tool I've tried, and it eliminates a substantial amount of hair issues I've faced for years. I am excited to continue using this tool and continue to reap the benefits.
Evaluation:
4.5
Image source: POPSUGAR Photography / Renee Rodriguez