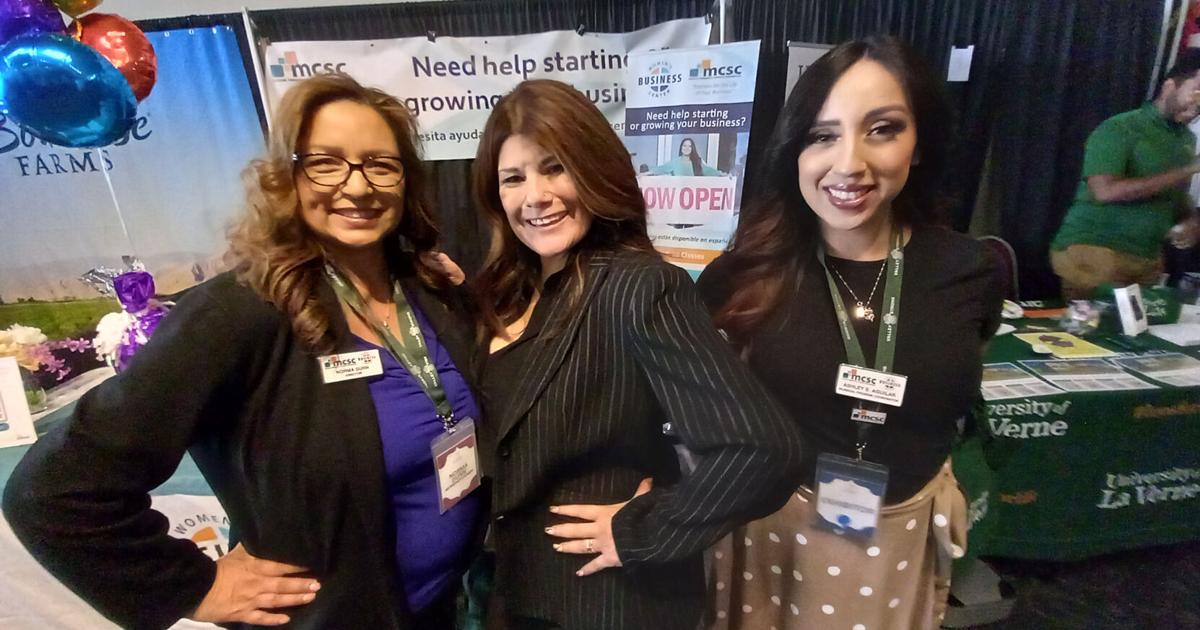 Business conference focused on inspiring and guiding women entrepreneurs | News
As a former entrepreneur looking to get back into the game, JoAnn Gonzales was looking for inspiration ahead of Thursday's Bakersfield Women in Business Conference. It happened almost immediately.
The Bakersfield businesswoman was sitting in a morning workshop with dozens of other local professionals when she realized she had relied too much on her own resources and failed to take advantage of help available locally. She also realized that other people around her had done the same.
"It made it very transparent that I wasn't the only one who made these mistakes," said Gonzales, who left the meeting convinced that despite everything she's been through, her best is yet to come. "Success comes from failure."
This message – that it is possible to start over and succeed through personal guidance and self-confidence – was at the heart of the 32nd annual event inside the Mechanics Bank Arena, theater and convention center.
It all started with the event's motto, "Embrace All That Is You", and continued with the theme of one of the event's keynote speakers, three-time Paralympic Snowboard Medalist Amy Purdy, Now author and motivational speaker.
After losing both legs to bacterial meningitis at the age of 19, Purdy said she ultimately had no choice but to accept the person she had become.
"I learned to embrace it. And it opens so many doors," Purdy said at a press conference near the start of Thursday's event.
What does this mean for businesswomen? Be patient with yourself, she says: Challenge yourself. Take baby steps if necessary, but most importantly, keep going.
Plus, don't fall into what she calls "impostor syndrome," which occurs when even the most capable entrepreneurs fall into the trap of believing they aren't worthy.
"You have everything you need to be successful," she said, "in whatever business you're doing."
Thursday's conference, considered a hybrid event because its many presentations were available to remote attendees who participated online, featured a sort of trade show with booths manned by retailers and local nonprofits.
There were also a dozen workshops covering a wide variety of topics, from cultivating resilience and building a brand to one-on-one small business consultations.
The one Gonzales attended starting at 10 a.m. was called "7 Key Steps…Solopreneur," led by Norma Dunn, director of the Kern Women's Business Center.
One of the workshop speakers sharing her personal experiences as a local entrepreneur, Leticia Velasquez, said she cried when her business closed. She thought at the time that it was the worst thing that could happen.
But that was not the case. Now the owner of the Mix Salon & Touchup Bar in downtown Bakersfield, she is launching her own line of hair extensions. The failure she thought was the end turned out to have led to a new beginning.
"Now, in retrospect, I think it's part of God's purpose for my life," Velasquez said.
Dunn offered a whole list of tips. Assemble a network of supportive women you can bounce ideas off of, she advised her audience. "Brain dump" your business ideas into a newspaper so you can be receptive to news. Don't get bogged down by critical comments from family members. Reverse your financial goals.
Another of his suggestions was to avoid trying to perfect your business before launching it. She said it's often best to listen to customers along the way and adapt to customer feedback.
"It's never going to be perfect the first time around," Dunn said.
One of his guests was Deanna Blaise, senior vice president of member business services at Valley Strong Credit Union, based in Bakersfield. She provided several practical tips for aspiring and existing business owners.
Blaise suggested that "solopreneurs" partner with an accountant or someone else who offers the kind of coaching that provides a good grounding in essentials like cash flow and pay statements. She referred the public to free counseling services such as those available through Cal State Bakersfield's Small Business Development Center and Central Valley SCORE.
Be sure to choose an adviser who isn't afraid to ask the tough questions, Blaise said, or else you risk being misled. Also, choose someone who is relevant to you.
"You can surround yourself with a village that can help you achieve what you want to achieve," she said.